INSTANT PAY
EMPLOYEE BENEFIT PROGRAM
SYNOPSIS: Instant Pay Employee Benefit Program
What is it? A program whereby employees can take advances against their current paycheck with no fee. The advance is not funded by the employer, but funded by our partner. Additionally, the mobile app, where this function resides, has additional modules regarding workforce management and employee communications that create very substantial savings for the employer
What's the benefit? Reduces employee attrition and absenteeism. Attracts additional employees since the employer offers this service. Creates additional, substantial savings for employer with the workforce management modules
Who is it for? Companies/organizations with a significant number of W-2 hourly employees FT/PT
 ❀ ❀ ❀
You know how difficult is it to find and keep talented help in this very-low percentage unemployment market. 
Employees will literally jump ship for $.25 an hour. You know what it costs you to train a new hourly-employee; $1,000, $2,000, $2,500, $3,000...more? The national average is a whopping $3,250! And, we've seen attrition rates as high as 400%! It is incredible, not to mention unsustainable.
So, we have some very potent Rx...Pay your employees when they want to be paid! The effect is more profound than you can imagine.
Simply, employees can withdraw funds against their upcoming paycheck any day of the week, any time of day…payment is instant. You are not funding this advance…we are! For zero cost, your employees will be protected from predatory lending vehicles like "pay day loans," "cash for titles," 401K withdrawals, etc. This is an incredible benefit that will reduce attrition, reduce absenteeism, and attract more applicants at no cost to you!
Regardless of what you think, these withdrawals are not for trivial purposes. The data show that the #1 reason employees utilize this service is to buy food f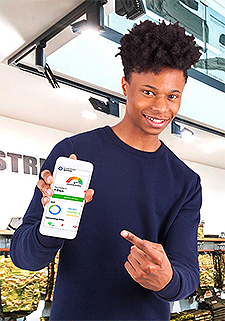 or their families. They live paycheck to paycheck. Maybe you've been there yourself at some time in your life?
To date the data says;
• Your employees want it - 74% of hourly workers surveyed said they would use our mobile same-day pay feature for instant access to their earnings, but…
• There is actually more than 85% adoption by employees where the program is offered – data is based on many thousands of client's hourly employees
• Job seekers are more likely to apply to your company because you offer same-day pay over your competitor that doesn't...You can crush the competition…just advertise you offer "same day pay" and attract 60% more applicants!
• Employees are 40% more likely to cover a shift if they can take advantage of same-day pay.
• Among companies that offer it, on average, same-day pay decreases turnover by >15%, and absenteeism by >10%
• There is no setup cost, and no recurring cost to your company to offer this service. And, there is no cost for the employee to take an advance!
If you don't believe that your employees would resort to using a payday loan or title loan company, consider this: there are more payday loan locations in the United States than all Starbucks and McDonalds locations combined!
Maybe you've heard of, or investigated an, "instant payment" platform, but this one has been perfected and could save you hundreds of thousands, if not millions, of dollars via the many additional features on the same application...We are the only company in the U.S. to offer this no-cost to the employer, no-cost to the employee program.
The adoption of Instant Pay is exponential…every business will have to offer it in the very near future. Get ahead of the curve before your competitor does.
Hello - We ENHANCE YOUR PROFIT LINE
All of our savings and incentive programs bolster your bottom line, but programs such as the Virtual Payments Accounts Payable Solution actually create additional income by capturing rebates for your company, as you would, personally, with your own rewards credit cards.
HELLO - WE CREATE COST-SAVINGS
You can calculate yourself what a single dollar of cost-savings represents in relation to generation of your front-end revenue. We often find thousands, hundreds of thousands, or even millions of dollars of cost savings with a myriad of our contingency-based, unique programs. Give us a try.
HELLO - WE FIND Tax Incentives
Our Tax Incentive Team of expert engineers, attorneys and accountants does only one thing…tax incentives. They are expert at it, have the studies perfected, and find millions of dollars of "hidden" tax incentive money for our clients every year.
☎︎ Schedule us for a complimentary 15-minute assessment call
We'd love to help you find some "hidden money." Click the "Let's Chat" button and schedule a 15-minute call with us at your convenience. 15 minutes is all we need to determine which of our many contingency-based programs you may be eligible for!
WHY CHOOSE US?
With the experience of more than 20 years in the cost-recovery arena, we are sure to find you some "hidden money."
Us...
Apropos Communications, Inc.
Apropos Communications, Inc., DBA "We Find Hidden Money" is a ten-year-old Cost-Recovery Consultancy, incorporated in California in 2013, and part of a resource-rich collective of Consultant Advisors across the United States
Our National Team of Subject Matter Experts